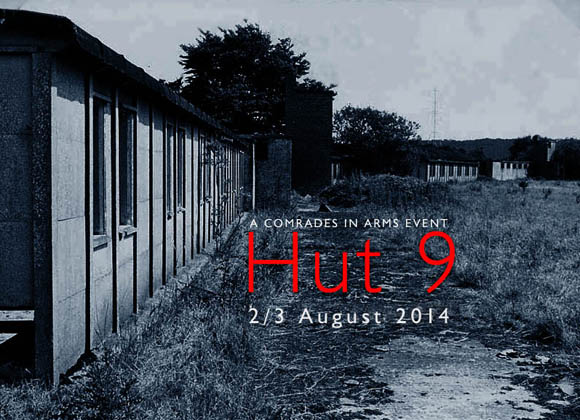 This event is Comrades in Arms' third WW2 event based on events here in the UK. This one is is based on the historic "Welsh Great Escape" in which 70 German prisoners escaped via a tunnel from Hut 9 in a PoW camp in Bridgend, South Wales, on the evening of 10th March 1945.
The event takes us to the morning of 11th March when the gravity of the escape becomes horribly real. For the moment the escape hasn't been made public but it won't be long before the news spreads like wildfire – so the race is on to contain the situation and round up the escapees. Port, road and rail authorities have been alerted and the hope is to keep the crisis local.

The event will be held on an historic WWII air base with a wealth of ruins and bunkers amidst 120 acres of mature woodland on the road between Brigstock and Grafton Underwood, Northamptonshire.
Concept
The game concept is simple enough – the Germans have to escape the warm embrace of the British, the British have to shepherd Jerry back into custody alive.
British – PoW camp guards of miscellaneous Regiments and local Home Guard and local training group of British Airborne
Uniforms – badged or unbadged British battledress in wool (preferably) or denim, helmets or forage caps. Denisons & maroon berets/airborne helmet for aiborne.
German – officers of the SS, Luftwaffe, Kreigsmarine and Heer
Uniforms – civilian escape gear
Date and time
Game start – Noon 2nd August, game ends Noon 3rd August
Cost
£50 payable in advance, deposit of £25 is an option
Player age
Comrades in Arms events are for over 18's only (at the time of the event)
Camping
Yes, hard standing and flat grass alongside car park – 'period'/canvas preferred.
Address: Brigstock Road, Grafton Underwood, NN14 3AA
Places are not limited.
Game fees are non-refundable, however the place is transferable. If you are unable to attend then you may make your own arrangements to swap with another player, you can use the forum for this purpose.
Full event information including how to book can be found on the forum: WW2 Airsoft forum
This event is a WW2 Airsoft community event. That is to say it is organised by a small group of players who have given up their time to make something happen. The key component is you, the WW2 airsoft player. Your contribution both in sharing the costs of running the event and giving up your own time is contributing to the experience of your fellow players. You are not paying to be entertained for a weekend and you don't have a right to play as you please (off-piste, cheating, win-at-all-costs etc). There are no marshals, there is no need, no one wants to let their fellow players down and we are responsible for not just ourselves but others too.
Comrades in Arms events are not airsoft skirmishes, quite the opposite. Within the bounds of a fun and safe weekend they are concerned with getting into the mindset of a WW2 soldier – getting frustrated, disillusioned, exhilarated and elated in equal measure. Winning or losing each have a fascination, each brings its own slant to the experience. Following orders and objectives, keeping alive, looking after your comrades are very much to the fore. It is the experience to remember that we are looking for – something to look back on and say, "wow, that was amazing". It's a shared experience and it only happens if we are all working together – welcome to Comrades in Arms.